Fountain Wars Design Team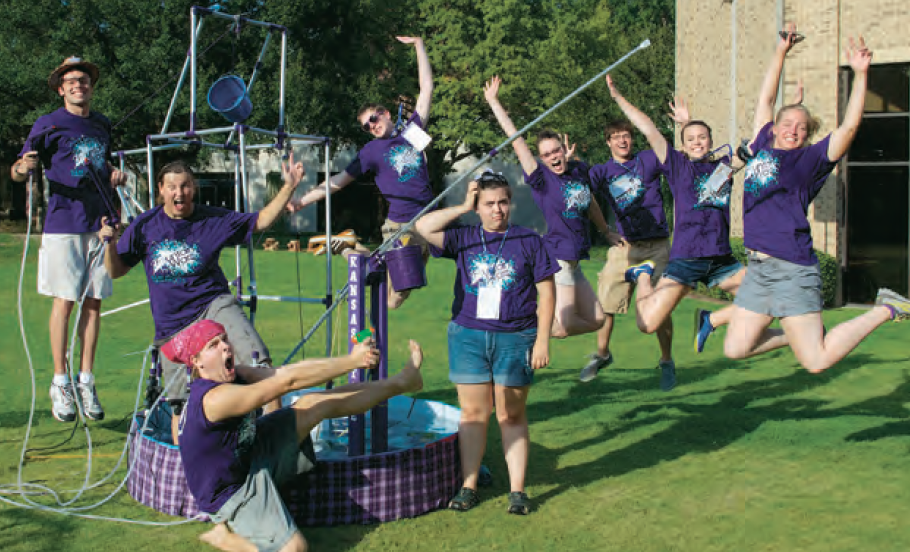 Welcome to the K-State Fountain Wars Design Team webpage!
The ASABE Fountain Wars Competition applies understanding of the fundamental principles of hydraulics and fluid flow towards designing solutions to a defined set of tasks. The competition consists of two technical tasks, an aesthetic display, and an oral presentation completed by sophomores and juniors. As part of this engineering competition, students are introduced to marketing-style promotion and designing for aesthetics, incorporating biomaterial in the design or display to earn bonus points. The students are introduced to the pre-manufacturing of components due to the limited time to construct on site during the competition. They bring their fountain components in disassembled condition in five containers of specified dimension and weight. Teams construct the fountain in 90 minutes and pass the safety test to participate in the international competition.
The Kansas State University BAE fountain wars team won second place at the 2012 ASABE international meeting in Dallas. This was their tenth top-three placing in the last 11 years of competition.
K-State placed second in the 2010 competition! The K-State team competed against teams from the University of Illinois at Urbana-Champaign, Texas A&M, University of Florida, Oklahoma State and Iowa State. K-State's 2010 Fountain Wars Design Team competition members were: Lorinda Bejot (Dodge City), Kelly Borgen (Ensign), Katie Handley (Onaga), Levi Sutton (Manhattan), Justine Sullivan (Lakin) and Brent Ware (Shawnee Mission). Other team members are: Allie Archer (McPherson), Kari Friedrichs (Marysville), Erin Mason (Greenfield, MO), Breanna Stout (Garden City), Ginger Pugh (Mayetta). BAE Faculty advisor was Dr. Phil Barnes.
In 2010, the G.B. Gunlogson Student Environmental Design Competition had the following Problem Statement:
Each team prepares a fountain design to meet aesthetics display and technical task requirements
At the contest site, each team is provided with a 1000-L reservoir, up to 30 m of various sizes PVC pipe, and access to 14-amp, 120-volt AC electrical service to power their pump systems.
The teams arrive at competition with a fountain design, pump systems, PVC couplers, fittings, valves, and nozzles.
After a presentation of their design, teams are given 2 hours to construct their fountain.
Upon completion, each fountain was tested for its ability to perform the two technical tasks and the aesthetic display.
Awards are based on separate scores of the written design, oral presentation, construction, technical tests, and aesthetics.