Mark R. Wilkins | Professor and Department Head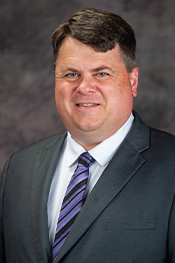 Ph.D. - 2004, University of Illinois at Urbana-Champaign
Agricultural Engineering
M.S. - 2001, University of Illinois at Urbana-Champaign
Agricultural Engineering
B.S. - 1999, Purdue University
Agricultural and Biological Engineering
Contact Information
1014 Seaton Hall
785-532-5580
mrwilkins@k-state.edu
Professional experience
Mark Wilkins comes to Kansas State University after six years as a professor of biological systems engineering, as well as food science and technology, and as the director of the Industrial Agricultural Products Center at the University of Nebraska-Lincoln. While at UNL, Wilkins was awarded the Nebraska Corn Checkoff Presidential Chair to support his research developing valuable products from corn. Wilkins also served as the graduate chair for biological systems engineering at UNL and was a member of the UNL faculty senate. From 2005-2016, Wilkins was on the faculty of the biosystems engineering department at Oklahoma State University. Wilkins researched processes to convert cellulosic biomass to fuels and chemicals; taught courses in bioprocess engineering, renewable energy and food engineering; and organized several short-term study abroad courses. He also served on OSU's graduate council and was the graduate chair for biosystems engineering. From 2004-05, Wilkins was a postdoctoral engineer at the USDA-Agricultural Research Service's Citrus and Subtropical Products Laboratory in Winter Haven, Florida. While there, Wilkins was a co-inventor on two U.S. patents related to ethanol production from citrus peel waste. Wilkins received his bachelor's degree in agricultural and biological engineering from Purdue University in 1999, his master's in agricultural engineering from the University of Illinois at Urbana-Champaign in 2001, and his doctorate in agricultural engineering from UIUC in 2004. Wilkins is a licensed Professional Engineer in the state of Oklahoma.
Research
Wilkins' research focuses on fermentation of sugars and lignin monomers to produce both foods and chemicals. Utilization of waste products as feedstock is an emphasis. Recent projects have included production of bioplastics from fermentation of sugars and lignin monomers, succinic acid fermentation, packed bed fermenter design and utilization of corn fiber as a feedstock for bioprocessing.
Research keywords
bioprocessing, biofuels, plastics, renewable energy
Academic highlights
Wilkins has guided nine doctoral students and 10 master's students to complete their degrees and he has supervised six post-doctoral scholars. Wilkins has authored or co-authored more than 85 peer-reviewed journal articles, three book chapters and two U.S. patents. He was awarded the 2011 ASABE Best Reviewer Award for the Biological Engineering Division, the 2012 Gale Holloway Professional Development Award for ASABE, a 2014 Leadership Citation for the ASABE Biological Engineering Division, a 2014 Emerging Leaders Under 40 in Stillwater award by the Stillwater, Oklahoma, Chamber of Commerce, a 2016 ASABE Superior Paper Award, a 2019 Outstanding Associate Editor for ASABE Award, and a 2019 Leadership Citation for the ASABE Meetings Council. Wilkins is a 2021-22 LEAD21 Class 17 graduate.