Lisa R. Wilken | Associate Professor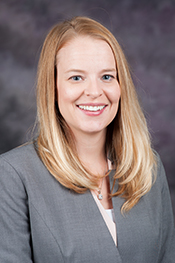 Mark C. Nyquist - Carl and Mary Ice Cornerstone Teaching Scholar
Ph.D. - 2009, Texas A&M University
Biological and Agricultural Engineering
B.S. - 2003, Kansas State University
Biological and Agricultural Engineering

Contact Information
1043 Seaton Hall
785-532-3327
lwilken@k-state.edu
Professional Experience
Dr. Lisa Wilken received a bachelor's degree in biological and agricultural engineering from K-State in 2003, and a doctorate in the same subject from Texas A&M University in 2009. She has been an assistant professor at K-State since 2012, where she has led the department in incorporating advanced biological sciences into the biological systems engineering (BSE) program and in developing the biological option in the BSE program. She has also developed and taught courses in biological engineering fundamentals, advances in biological engineering, and bioseparations engineering; taught and developed new course content for Biological & Agricultural Engineering Design and Biological Systems Engineering Design Project I; and taught Properties of Biological Materials.
Research
Wilken's Bioseparations and Bioprocessing Laboratory addresses fundamental separation challenges that impede recovery of biomolecules from biological sources using experimental design, process simulation, and high throughput screening methods. Research is anticipated to provide scientific information for designing downstream processing trains for recovery of bio-based products from biomass. Her laboratory is also developing technologies and novel strategies for recovery and purification of pharmaceuticals, food and feed proteins, industrial proteins and is currently developing an enzyme-assisted extraction process for microalgae as a commercially-viable, scalable, and environmentally friendly algae lipid-protein separation technique. The purpose of the work is to address a major bottleneck issue with algae biofuel/bioproduct processing, the lack of cost-effective cell lysis and cell content separation processes for intracellular lipid and protein recovery. Thus far, research has been focused on the freshwater species, Chlamydomonas reinhardtii, due to its great potential to produce oil, starch, and/or high value, pharmaceutical proteins. Cell wall lysis is a critical first step for the extraction of these products and studies in Dr. Wilken's lab indicate that our biological-based treatment method can effectively lyse cell walls and release protein and oil from within the chloroplast.
Academic Highlights
Since joining the faculty at K-State, Wilken has been honored with 16 awards on the college, university, and national levels including the 2016 ASABE A.W. Farrall Young Educator Award, 2016 Kansas State University Presidential Award for Excellence in Undergraduate Teaching, 2016 University Distinguished Faculty Award for Mentoring of Undergraduate Students in Research, 2016 College of Engineering Charles H. Scholer Faculty Award, 2015 College of Engineering Outstanding Assistant Professor Award, College of Engineering Dean's Awards of Excellence in Teaching (2016) and in Service (2015), 2017 ASABE Gale A. Holloway Professional Development Award, 2017 ASEE Early Achievement in Education Award, 2017 James L. Hollis Award for Excellence in Undergraduate Teaching, 2018 Kansas State University Presidential Award for Excellence in Undergraduate Advising, and two Presidential Citations from The Institute of Biological Engineering for exemplary service.
She has provided leadership in professional societies, including the Institute of Biological Engineering (IBE) and ASABE. Major leadership positions for ASABE include the Biological Engineering (BE) Division Chair, Program Chair, Vice-Chair, and Secretary. She is also Chair of the 2015 and 2016 IBE Bioethics Competition (2014 co-chair).