Naiqian Zhang | Professor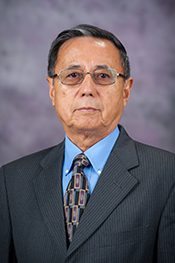 Ph.D. - 1987, Virginia Polytechnic Institute and State University
Agricultural Engineering
M.S. - 1984, Purdue University
Agricultural Engineering
B.S. - 1970, China Agricultural University
Agricultural Mechanization

Contact Information
1058 Seaton Hall
785-532-2910
zhangn@k-state.edu
Professional Experience
Zhang worked as a repair technician at the Huailai County Tractor Repair Factory in Hebei, China, from 1970 to 1974, and then as a manufacturing engineer at the Baoding Internal Combustion Engine Factory, also in Hebei, from 1974 to 1977. He was a research engineer at the Tianjin Research Institute of Agricultural Machinery in Tianjin, China, from 1977 to 1981. Zhang worked as a graduate research assistant at Purdue University from 1981 to 1983, at Virginia Tech from 1984 to 1987, and as a postdoctoral research associate at University of California, Davis in 1987. He was a guest professor at Institut für Landtechnik, Universität Bonn, West Germany, from 1987 to 1988 and was a visiting assistant professor in the department of agricultural engineering at Virginia Tech from 1988 to 1990. Zhang came to K-State in 1990 as an assistant professor and was promoted to associate professor in 1995 and professor in 2001. He has served as the graduate program director for the department since 1996.
Research
Over the past 35 years, Zhang's has conducted research on automatic tractor and engine control, machine vision applications on precision agriculture, optical sensors, dielectric sensors, precision agriculture technologies, wireless sensor network, and embedded systems. In recent years, his research has concentrated on plant phenotyping. He has worked in interdisciplinary teams and led or participated in multiple research projects sponsored by DOD, NSF, USDA, state agencies, and industries. His research work has led to the development of a diesel engine and tractor wheel slip control system, a weed detection and spray control system for small grains, an optical sensor that simultaneously measures sediment concentration and water flow velocity, and a frequency-response based dielectric sensor that simultaneously measures multiple properties of soil, water, fuel, and air.

During the past four years, his research group has developed a high-throughput, vehicle-based field phenotyper, a hand-held phenotyper, and a robotic phenotyper. Currently he is working on sensors that measure plant morphological traits. In 2011, Dr. Zhang was elected to the Fellow grade of the American Society of Agricultural and Biological Engineers (ASABE). He has served as the chief editor of the Information and Electrical Technology Division of ASABE since 2007.
Academic Highlights
Zhang has been teaching three undergraduate and graduate-level courses in sensors, controls, and instrumentation. In teaching these courses, he emphasizes hands-on training and has guided more than 300 team design projects. Since 2007, he has advised the K-State Student Robotics Design team and won all the championships at the International Student Robotics Design Competition sponsored by ASABE in nine consecutive years (2007-2015). Zhang has advised 15 master's students, 15 doctoral students, and numerous post-doctoral researchers and visiting scholars. Zhang's contributions have been recognized through several awards, including the 2007 Robert R. and Lila L. Snell Distinguished Career Award for Excellence in Undergraduate Teaching, the 2012 Myers-Alford Memorial Teaching Award by the K-State College of Engineering, and two ASABE paper awards.
Zhang has been very active in international activities. Over the years, he has taught at many universities in China, Germany, Japan, Thailand, Philippines, and Mexico, and was invited to give speeches and seminars at many international conferences. He has been appointed as a guest professor by more than ten universities around the world. He is the founding President of the Association of Overseas Chinese Agricultural, Biological, and Food Engineers (AOCABFE). In 2010, he was selected a U.S. Fulbright Scholar.