Joseph Harner | Department Head and Professor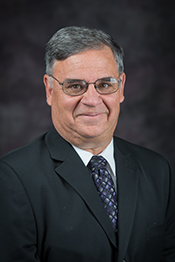 Ph.D. - 1983, Virginia Polytechnic Institute and State University
Agricultural Engineering
B.S. - 1981, Virginia Polytechnic Institute and State University
Agricultural Engineering
B.S. - 1979, Virginia Polytechnic Institute and State University
Agricultural Engineering
Contact Information
1016 Seaton Hall
785-532-2900
jharner@k-state.edu
Professional Experience
Harner is a graduate of Virginia Tech University in agricultural engineering. His extension outreach focuses on advancing engineering principles and implementing innovative ideas toward a safer and more sustainable food system. Since January 2009, he has held the leadership role of department head in the biological and agricultural engineering department.
Research
Harner has been involved in bringing fundamental engineering principles into the design and evaluation of heat abatement systems for conventional dairy structures in the development of low-profile, cross-ventilated, free-stall building design. He has shared his expertise and latest technology with students, agricultural producers, industry representatives, and government agencies. Harner's innovative work in the use of cross-ventilated dairy housing facilities has changed indoor housing for dairy animals and has made him one of the most highly regarded experts in the design and retrofitting of dairy facilities. His practical designs balance improved production efficiency, animal welfare, and environmental protection. His designs have reduced the impact of weather extremes and have improved the safety for animals and for dairy employees. Dairies across the US and other countries are being built according to this cross-ventilated model.

In an effort to reduce the environmental impact of animal feeding operations, Harner has explored alternative technologies like wetlands and vegetative filters. He has developed passive sand separation structures including sand lanes, sand traps, and sand beaches.
Academic Highlights
Harner's expertise is highly sought after -- he has been an invited speaker at more than 120 allied industry-sponsored conferences held around the world. Harner has authored or coauthored more than 270 refereed journal articles, conference papers, and technical and extension publications. His work has frequently been adapted for mass media in more than 100 popular press magazine articles. Throughout his ASABE membership, Harner has received the Henry Giese Structures and Environment Award (2003), G.B. Gunlogson Countryside Engineering Award (2009), ASABE Fellow (2016) and many Educational Aids Blue Ribbon Awards. He was honored both by the ASABE Kansas section and the Mid-Central regional meeting as the 2009 Engineer of the Year.