Daniel Flippo | Associate Professor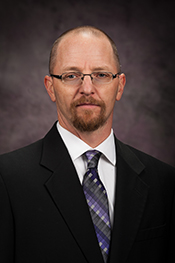 Patrick Wilburn Keystone Research Scholar
Ph.D. - 2009, University of Oklahoma
Mechanical Engineering
M.S. - 2004, Wichita State University
Mechanical Engineering
B.S. - 1994, Kansas State University
Mechanical Engineering

Contact Information
1041 Seaton Hall
785-532-2929
dkflippo@k-state.edu
WE NEED PHD STUDENTS:
I am looking for a PhD student interested applied robotics to work on a 4 year NSF grant that is farming high sloped hills using small autonomous vehicles which is starting immediately. The student will be:
1- Heading designing and developing robot upgrades to our current AgDrone ground robot as well as planters and harvest modules.
2-Coordinating with the rest of the team for path planning and simulation design.
3-setting up and running maneuverability tests for the AgDrone to be used in simulation algorithms
4-field testing of systems
5-Field studies of UAV battery swapping systems
6-Help feeding the world!
Professional Experience
Dr. Daniel Flippo is an assistant professor of biological and agricultural engineering. He came to the K-State in 2011 as an assistant professor. He has more than a decade of industry experience from Cessna Aircraft, Tinker Air Force Base and John Deere. He holds bachelor's, master's, and doctoral degrees in mechanical engineering and his research is focused on robotics. Flippo is also a board member of BotsKC, which is a STEM learning group that promotes engineering and manufacturing through battling robotic competition.
Research
Flippo's research goal is to mesh the state-of-the-art robotic technology with conventional and non-conventional food production to move toward sustainably feeding the world past 2050. The problem of sustainably feeding the world has two constraints: producing enough yield to feed the population while doing it in a sustainable way to continue past 2050. His research thrusts range from conventional agricultural machines to autonomous vehicles and the tools and implements used by them.
Intelligently incorporated automation can provide a valid solution to deepen human-robot collaboration and meet our food, fuel, and fiber needs by better soil management, increased production, and responsible use of energy, water, and chemical products. There is much to learn in vehicle field dynamics, power requirements and alternative energy sources, networking, logistics, and autonomous precision farming. The paradigm in which we see the role for food production equipment can be drastically changed due to the opportunities and scale that these robotic vehicles allow. Small agricultural drones will affect the growing seasons due to their indefatigable nature and resilience to unfavorable weather conditions as well as bring a new precision to agriculture never realized before. These changes will impact and transform conventional food production with new possibilities in biodiversity, natural weeding, and pest management. Positive environmental impacts will be felt through use of hybrid power systems, better chemical and water management, and highly reduced soil compaction resulting in less erosion and chemical runoff.
Academic Highlights

Flippo has served as principal investigator or co-PI on several research projects. He has directly supervised four doctorate and master's students, and numerous undergraduate research students. He has presented to several conferences and groups on agricultural engineering, robotics, and terra-mechanics. He currently teaches four courses in off road vehicle design, drive train, mechatronics, hydraulics and research experimentation.