Edwin Brokesh | Assistant Professor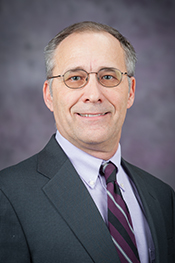 ATM Teaching Coordinator
Ph.D. - 2019, Kansas State University
Biological and Agricultural Engineering
MBA - 2006, Kansas State University
B.S. - 1983, Kansas State University
Agricultural Engineering
Contact Information
1039 Seaton Hall
785-532-2907
ebrokesh@k-state.edu
Professional Experience
Edwin Brokesh earned a bachelor's degree in agricultural engineering from K-State in 1983. He began his engineering career with a manufacturer of livestock equipment where he was part of a management team that took a small local firm and made it into a nationally recognized manufacturer of equipment to handle beef cattle, bison and swine. While there Brokesh developed new products, designed manufacturing tools, managed sales and manufacturing personnel, purchased manufacturing equipment, oversaw construction of manufacturing buildings, negotiated licensing agreements for intellectual propertyand completed numerous state and federal contracts. In 1998 he joined a manufacturer of grain-handling equipment where he designed stationary and portable grain-conveying equipment for national and international markets. Additionally, he was lead engineer for a tracked ATV the company acquired in 2004. Brokesh continues to be connected to the agricultural equipment industry through his membership on several ASABE standards writing committees for safety and design. He is a past chair of the ASABE lighting and marking committee responsible for standard S279 that the United States Agricultural Machinery Illumination and Safety Act is based upon.
Brokesh completed a master's in business administration in 2006 and joined the biological and agricultural engineering department in 2008 as an instructor and extension engineer. He is a co-advisor for the award-winning Helwig Farms Quarter-Scale Tractor Team and advisor for the K-State Biodiesel Initiative.
He teaches courses in off-road machinery systems and engineering design and is the teaching coordinator for the agricultural technology management (ATM) degree program. Through his extension appointment, Brokesh provides extension education on bioenergy, agricultural machines and agricultural machine safety topics. He is a licensed professional engineer in the state of Kansas.
Research
Brokesh's research interests includes machine vibrations, machine vision, equipment design, equipment automation, machinery management and safety as these areas relate to livestock and commodity crop production. He is currently working on research projects related to the impact of vibrations on livestock being transported over long distances, precision agriculture as it relates to tillage and forage harvesting task automation.